With cooler temperatures starting to roll into Georgia and the beginning of football season upon us, what's better than sipping on an ice cold beer while you cheer on your favorite sports team? While you might not think of North Atlanta as synonymous with a vibrant beer scene, you'd be surprised at the explosion of breweries over the past decade. While the pandemic hit hard for many industries, it appears the beer scene is more vibrant than ever! As more and more residents and families flock to the North Atlanta suburbs there has become an increased demand for establishments that are welcoming of children and pets while also allowing adults to relax and unwind. Breweries have become a place where friends can socialize, children can play board games, pups can run around, and adults can sip on delicious, fresh brewed beer– Sounds like a little slice of heaven!
If you've just moved to North Atlanta, or perhaps have already visited every brewery in Atlanta and you're itching to try something new, it's time to head for the suburbs. Whether you are a casual beer sipper or true beer aficionado, you are sure to love the craft breweries in Alpharetta, Milton, and Roswell. Below you will find 6 of our favorite breweries in North Atlanta that won't disappoint and are sure to please your palate!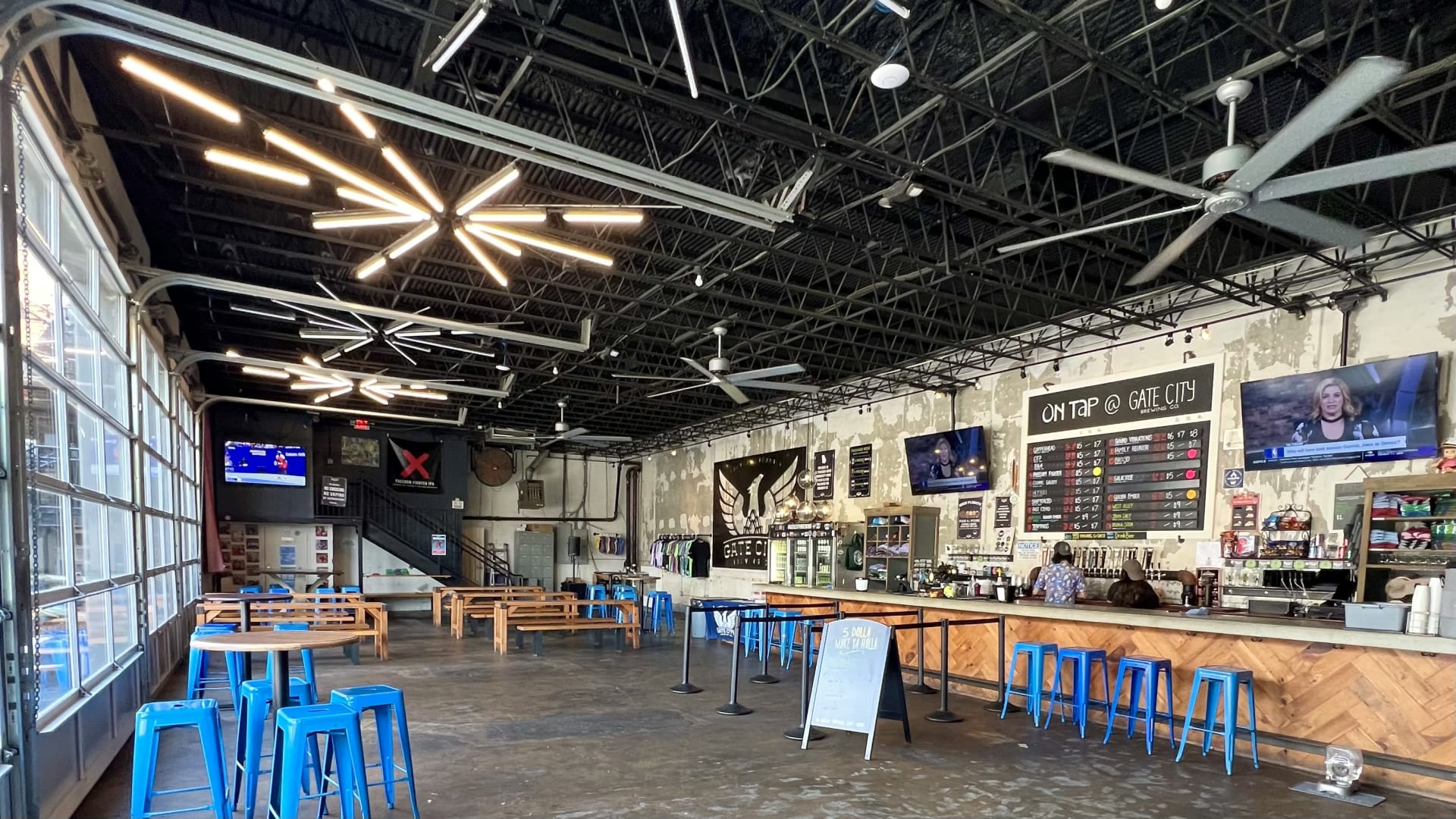 Roswell GA
Named after Atlanta's nickname "Gate City", founders Brian Borngesser and Pat Rains opened this establishment in 2015 after years of dreaming about opening Roswell's first craft brewery. Located in historic Roswell, Gate City's brewhouse hosts up to 20 house-brewed beers. In addition, their newly added Artillery Room includes unique, beautifully curated hand-crafted cocktails.
*Perks: Child friendly, pet friendly, outdoor seating, bring your own food, open container district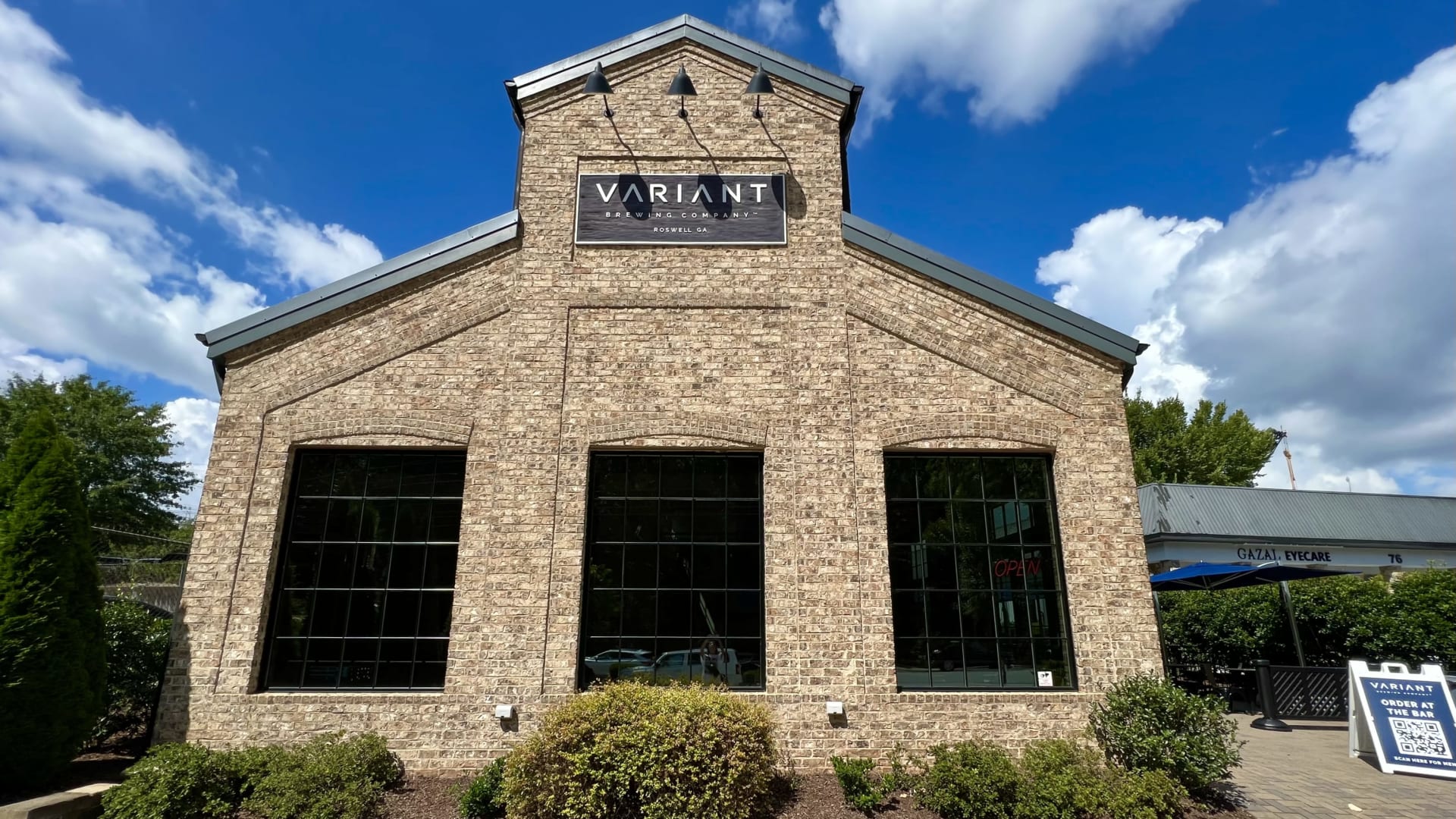 Roswell GA
Located just down the road from Gate City is Variant Brewing, probably my favorite brewery in the North Atlanta area due to its incredible selection of sour beers. Matt Curling, the head brewer, definitely knows what he's doing! Beer enthusiasts from all over come to taste his delicious variety of beers from New England IPAs to saisons and stouts, there's definitely something for everyone! Not sure what you're looking for? The staff at Variant is incredible at matching you with the perfect style beer. Bring your dog, grab some pizza from the Standard, and relax on the patio with a cold beer. Variant is sure to become one of your favorite Roswell hot spots!
*Perks: Child friendly, pet friendly, outdoor seating, alternative drinks to beer, food trucks/snacks, open container district, live music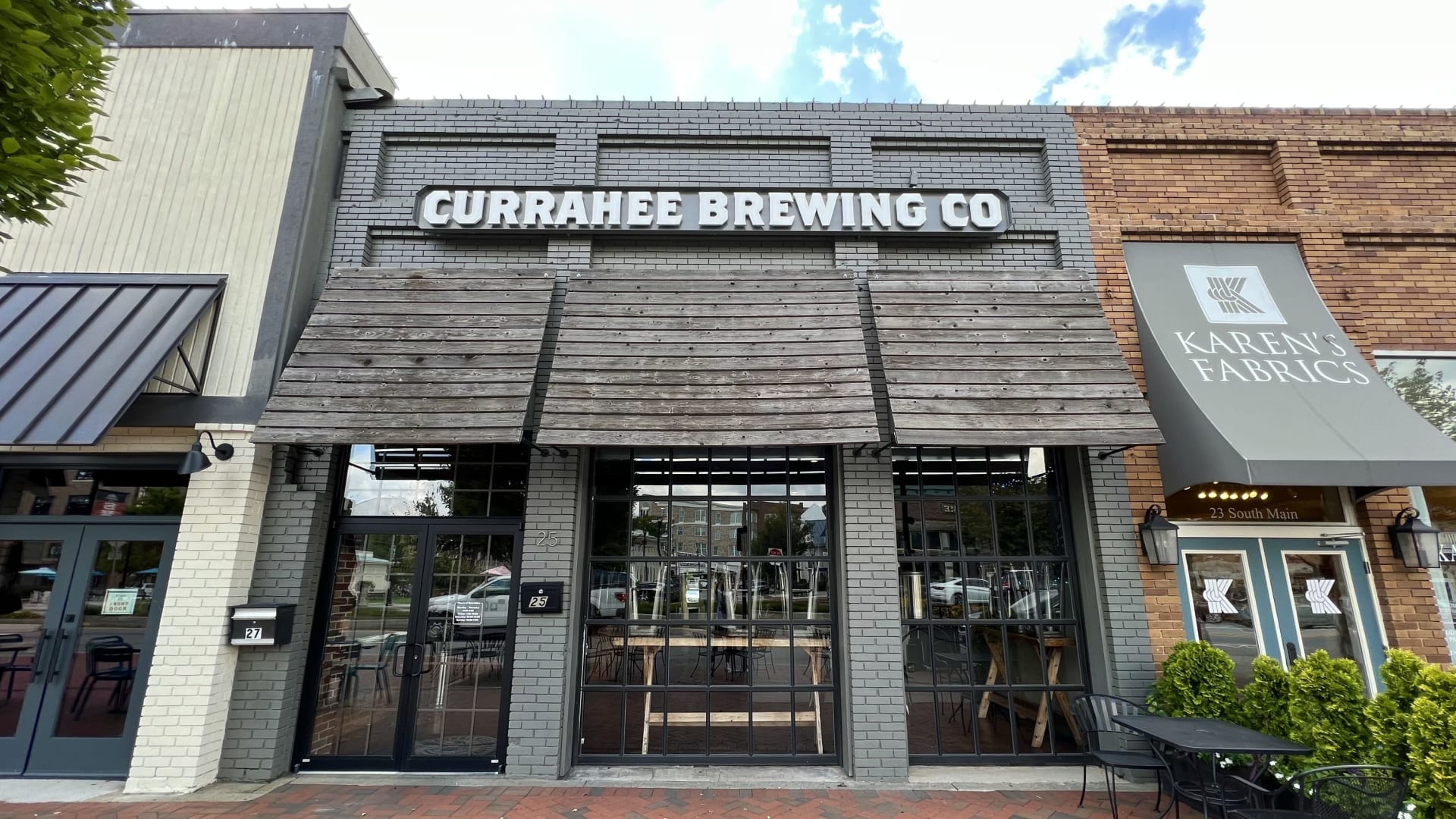 Alpharetta GA
Nestled amongst the quaint shops and restaurants of downtown Alpharetta, Currahee Brewing is well known for its freshly brewed beer on site and friendly atmosphere. Currahee meaning "Stand Alone", was named to honor the Cherokkee people deeply rooted in North Carolina history, as well as, the brave men and women in the military who fought and continue to fight for our freedoms today. Currahee Brewing Company has been in operation since early 2016, with additional locations in Franklin and Clayton NC. Whether you're here for their popular hazy IPAs or to sip on their award winning coffee milk stout, you will enjoy a brewery that makes you feel like home. Hungry while you're here? Grab some BBQ through their counter service connected to the delicious nextdoor restaurant, Smokejack.
*Perks: Pet friendly, outdoor seating, live music, open container district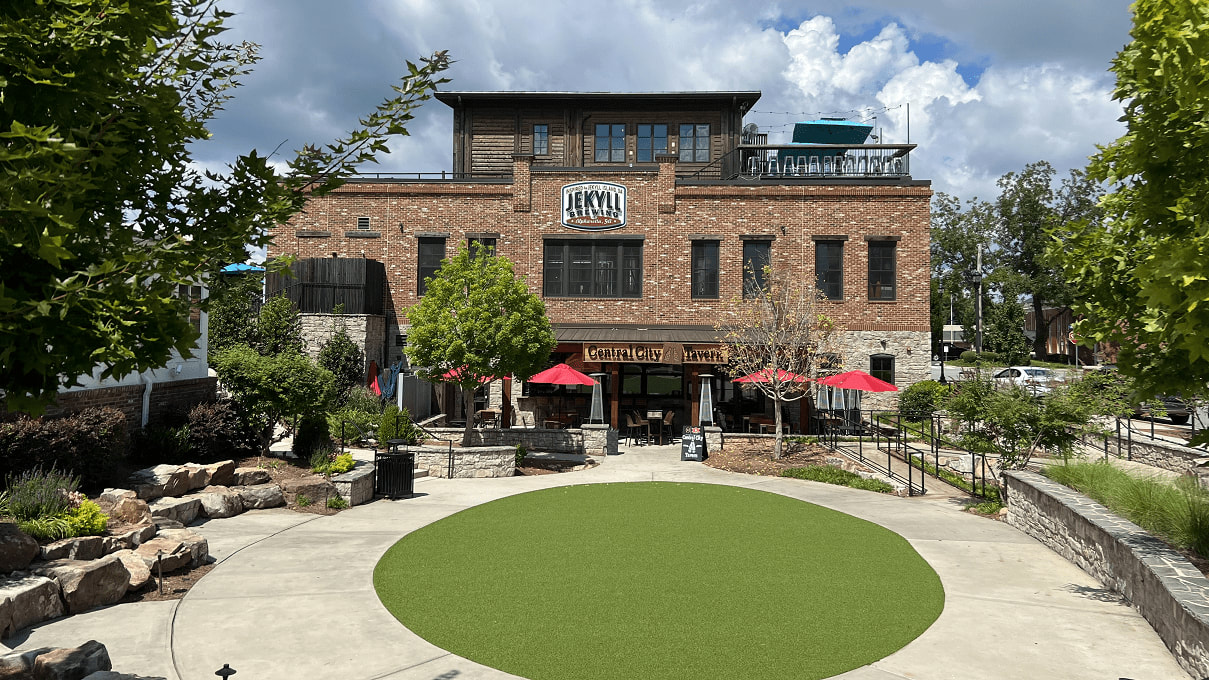 Alpharetta GA
Voted one of Atlanta's top 10 craft beer destinations by Atlanta.Eater.com, Jekyll Brewing is a MUST for beer enthusiasts. Not only is the beer delicious, but the atmosphere makes you feel like you're sipping a drink on the beach without a care in the world. Jekyll Brewing, named after Jekyll Island, Georgia which was the location of the first brewery of the Deep South in 1738, is the first brewery located in Alpharetta, Georgia. There are 2 locations to check out– "City Center" is located in downtown Alpharetta and features a restaurant, brewery, and rooftop patio. Their alternative taproom on Marconi Dr. is the perfect spot to grab a beer after riding or walking the greenway.
*Perks: Child friendly, Outdoor seating, live music, open container district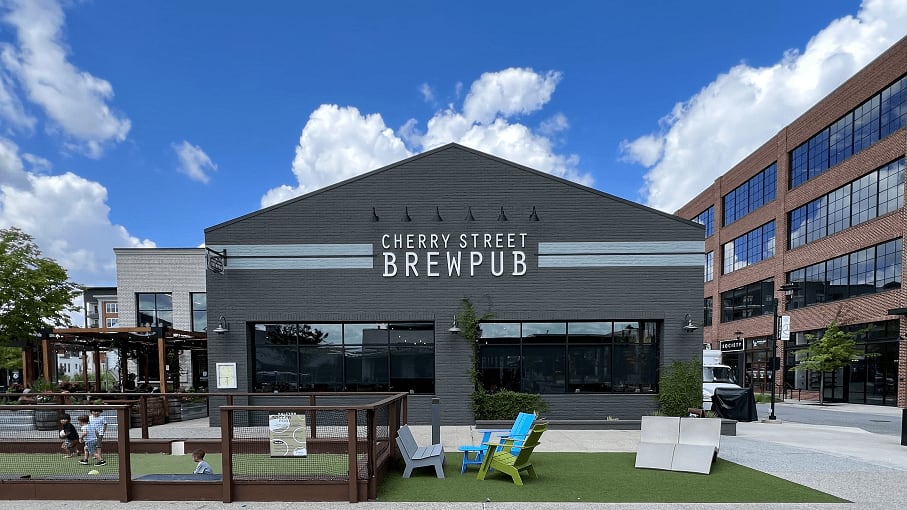 Alpharetta (Halcyon); Cumming (Vickery Village)
Made famous by the popular Atlanta native Rick Tanner, Cherry Street Brewing initially opened its doors in 2012 and became the first legal craft beer brewery in Forsyth County. Later on in 2019 they opened their relaxed, family friendly Halcyon location which features elevated pub fare and award winning beer. Enjoy a variety of beer styles from one of the collective 60 taps, ranging from porters to IPAs. Both locations pride themselves on being the perfect gathering space for the community to eat, drink and come together!
*Perks: Child friendly, outdoor seating, on-site restaurant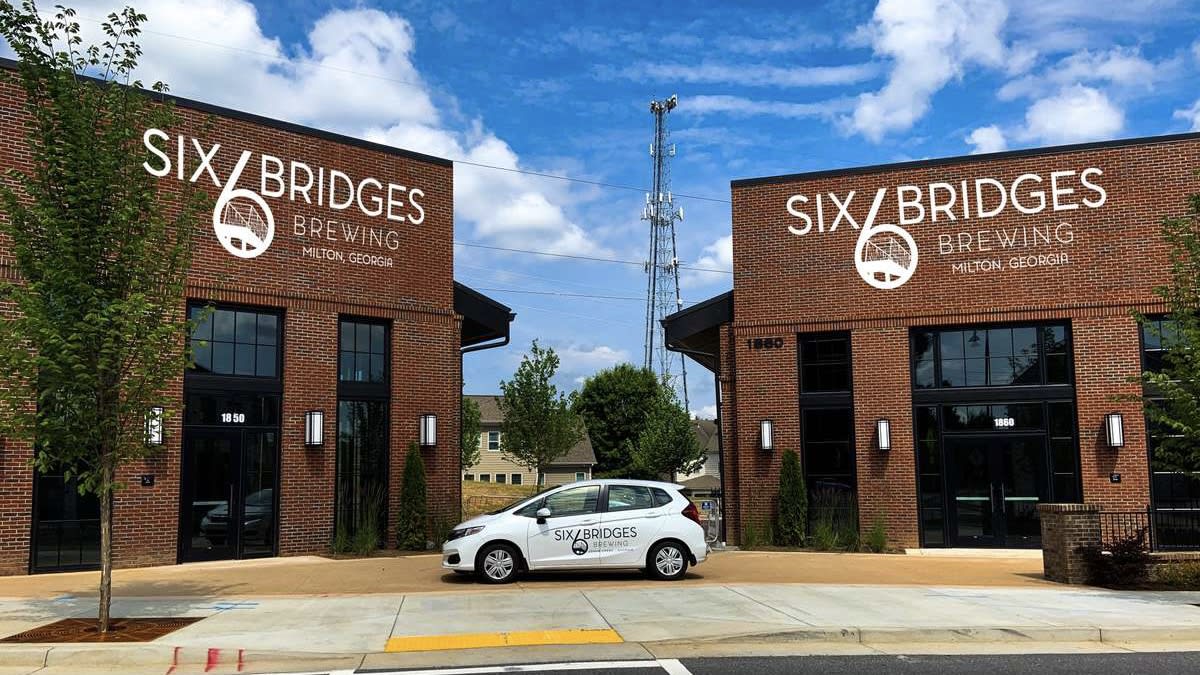 Johns Creek & Milton GA
Six Bridges, owned and operated by a father-son team, opened in 2018 becoming Johns Creek's first and only brewery. It was cleverly named after the 6 bridges located in Johns Creek: Jones Bridge, Medlock Bridge, McClure Bridge, Abbotts Bridge, Rogers Bridge and Little Bridge. Most recently, Six Bridges opened an alternative taproom in Milton's historic Crabapple district. Both locations feature pet friendly outdoor biergartens and a delicious selection of draft beers, seltzers, and cocktails.
*Perks: Child friendly, pet friendly, outdoor seating, food trucks, alternative drinks to beer, games/trivia nights
Upcoming Beer Events:
Gate City: Live music every Saturday evening 7-10pm
Jekyll Brewing: Live Music Every Friday & Saturday at 9pm
Six Bridges: Trivia night every Tuesday at 7pm
Cherry St (Halcyon): 1920'S THEMED MURDER MYSTERY PARTY; 10/27/22 from 6:30-9:30pm